Thoughtsarizen - B-sides Vol 1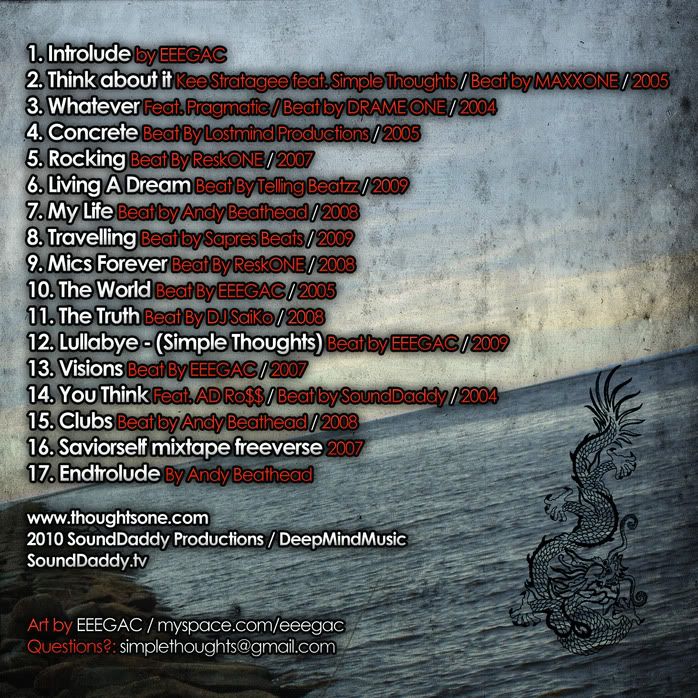 Description:
Thoughtsarizen - B-sides Vol 1 is a collection of songs that where originally recorded for separate project but were either not published, or not finalized, so I collected them here. Its a blend of street music, life music, soul searching and random prose all wrapped up in one CD. So many flavors of music on this album that you will probably suffer from sub-genre overload!
Similar in style to a mix of Atmosphere, Aesop Rock, and Apathy (ok I picked those because they all started with A), with a touch of international production and an authors flair. This album means a lot to me, it took me years to collect all these tracks and I really just love making music. So even if you don't end up purchasing it, I am glad you stopped by and sampled a few tid-bits.
Some of this album was influenced by my search for the worlds wisdom, and some of it was inspired by just smoking to much pot. Overall I think it has something for everyone except for the G's I didn't write any G music so sorry about that (Next time for sure). I did write tracks for my vagabonds, soul searches, hippies, hip-hop heads, corporate workers, IT staff, the president, and the masons...plus some musing for the homeless, for my fighters and those stuck in the asylum.
If you do end up liking it, please drop me a line, I have extra content available to those who get in touch (videos, bonus tracks, cookies, peach cobbler). I also am always looking for people to work with, so if you are an artist lets get it!
Living in the OC, (yes, THE OC) I have seen everything from plastic people, to great white sharks, to evil pelicans, to drunken Christians, which influenced my writing a lot. I had ALMOST as much fun recording it, as writing the album notes.
Anyway, True Skool for life (like how I spelled that?), and real lyrics above all. Hopefully you guys can relate.
Look out for the new Thoughtsarizen album coming out when its done....
Art by EEEGAC.
To my people, Lifes hard but its not so bad....Freethinkers welcome....enjoy...peace Thoughts1 2010.
Dedicated to those who have succumb to evils and fell, may you gain your wings in the next one...also to my English Mastiff that eats everything Brutus.
Tracklist:
1. Introlude by EEEGAC
2. Think About It (Kee Stratagee Feat. Simple Thoughts)
3. Whatever(Feat. Pragmatic)
4. Concrete
5. Rocking
6. Living A Dream
7. My Life
8. Traveling
9. Mics Forever
10. The World
11. The Truth
12. Lullabye(Simple Thoughts)
13. Visions
14. You Think
15. Clubs
16. Saviorself Mixtape Freeverse
17. Endtrolude Feat. Andy Beathead

Youtube/Video Link:
[DOWNLOAD NOW!] [DROPBOX]
Posted by
MixtapeDistribution.com