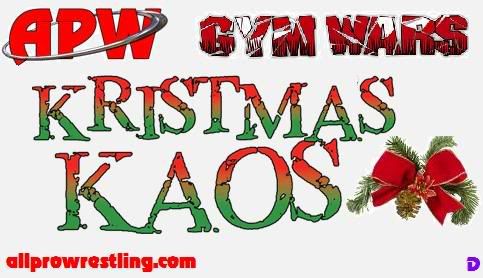 APW Garage - Hayward, California
December 12, 2009
Bad weather caused major changes to this event, as APW Universal Heavyweight Champ Malachi, The Reno SCUM (Luster the Legend and Adam Thornstowe), "Hard" Cory Dayton and "The Wrescking Ball" Paul Isadora were all unable to attend due to coming out of state. However, the show must go on, and here is a quick recap of APW Gym Wars: Kristmas Kaos 2009!
Christina Von Eerie uses the Backlund Bridge to pin and defeat "The First Class Male" Steve Stamp!
AJ Kirsch defeats Tap Out Kid via pinfall with a straight jacket back stabber!
Matthew Theall offers his managerial services to Mr. Wrestling #4 once again, and once again Mr. Wrestling #4 turns him down.
In six-man tag action, the team of Matt Carlos, OMEGA and Junior Morales defeat the team of Larry Blackwell, Corvus, and Vennis DeMarco!
Dylan Drake begins his path back to the APW Universal Heavyweight title, tapping out "Wrestling Personified" Rik Luxury with the Sharpshooter.
After catching "The Boss" Derek Sanders trying once again to defeat "Big Country" Jody Kristofferson by cheating, Kristofferson spears Sanders and picks up the pinfall victory!
In a match that was not originally scheduled, Jeckles the Jester defeats former APW Universal Champion "Old School" Oliver John via pinfall after the Joke Slam. After, Old School says that he is going to take time off to refocus.
In an unsanctioned match, "Double D" Dave Dutra pins Vinny Massaro after the Split Legged Moonsault. after which, Vinny Massaro received 10 lashes as the result!
In the British Wrestling Rules match for the APW World Wide Internet Championship, Challenger Mr. Wrestling #4 and Champion Timothy Thatcher go all 6 rounds to a draw!
Fans in the Bay Area, All Pro Wrestling Gym Wars bursts into your living rooms every Saturday morning at 11AM! That's the Bay Area's TV 50, Digital 199. Do not miss it!
Check out allprowrestling.com for more information, and follow APW on Twitter at twitter.com/allprowrestling