http://lax15-estw.eventbrite.com/
ALL Information is HERE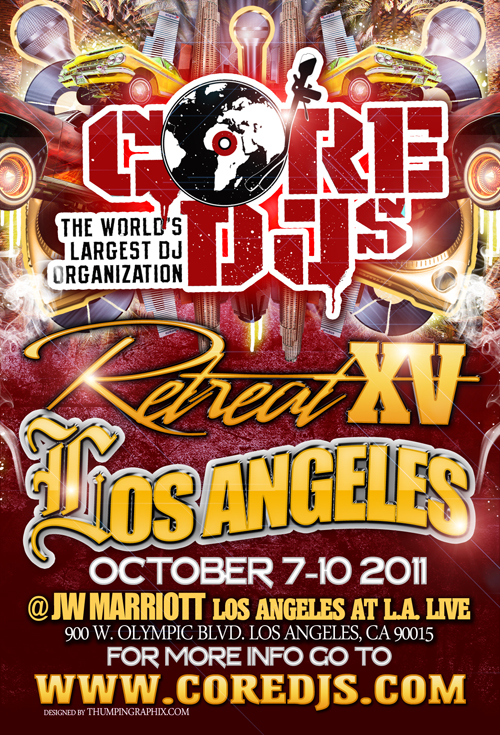 Tony Neal, CEO of The Core DJs Worldwide, has confirmed that semi-annual Core Retreat (Core Retreat XV) will be in Los Angelas, Oct 7th- 10th, 2011 at tJW Marriott Los Angeles at L.A. LIVE, 900 w. Olympic Blvd, Downtown LA
This installment of the internationally known conference will focus on record labels and entertainment companies owned by athletes, while maintaining its platform to introduce new talent and promote established talent to the largest active DJ organization in the world
Always a high profile entertainment industry event, The Core Retreat is known for attracting the biggest names and brands. Previous participants include Diddy, Jive Records, Akon, BET, Bad Boy, Erykah Badu, Ciroc, Interscope Records, and J Records just to name a few.
Now in its 6th year, the Core DJ's Worldwide is the premier coalition for DJ's, with a membership of over 500 of the nation's most influential DJ's, as well as international DJ Talent. The retreat seeks to provide knowledge and resources to labels and artists, while also introducing their music to 900+ DJ's, the media, major label executives, brand reps, and thousands of patrons that attend each retreat. This retreat will also offer new features to enhance the experience for participants including the Core Press Room, where talent can be interviewed & present single to media covering the event.
_____________________________________________________
_____________________________________________________
Core Members / Affiliates & Non Core DJ Registration:
Monday, August 1st, 2011 & closes on August 19th, 2011)
The purpose of the core is to empower and educate the core of the music industry, the DJs. Today, some of the most well known DJs are members of The Core including, Big Tigger - Live in the Den Syndicated Radio Show/BET, DJ Irie/Miami Heat DJ/WEDR 99 Jamz, Sir Charles Dixon, Music Choice, Clinton Sparks/WBOT/Boston, MA - WERG/Baltimore, MD - WZMX/Hartford, CT/Sirius XM Shade 45/Smash Squad, DJ S&S/Sirius XM Shade 45, The World Famous Kid Capri, Mr. Collipark, & DJ Q45/BET to name a few.
The Core DJs have successfully presented past retreats in Chicago, Miami (3x), St. Louis, Houston, Atlanta (3x), Dallas, New Orleans, Myrtle Beach, and Las Vegas; and will continue to do so, making their mark in every city that is part of the movement within the music industry. The retreat unites all industry professionals for a weekend of networking, festivities, and honoring some of the past, present, and future innovators of the music industry.
While in attendance at the retreat you will be able to participate ...